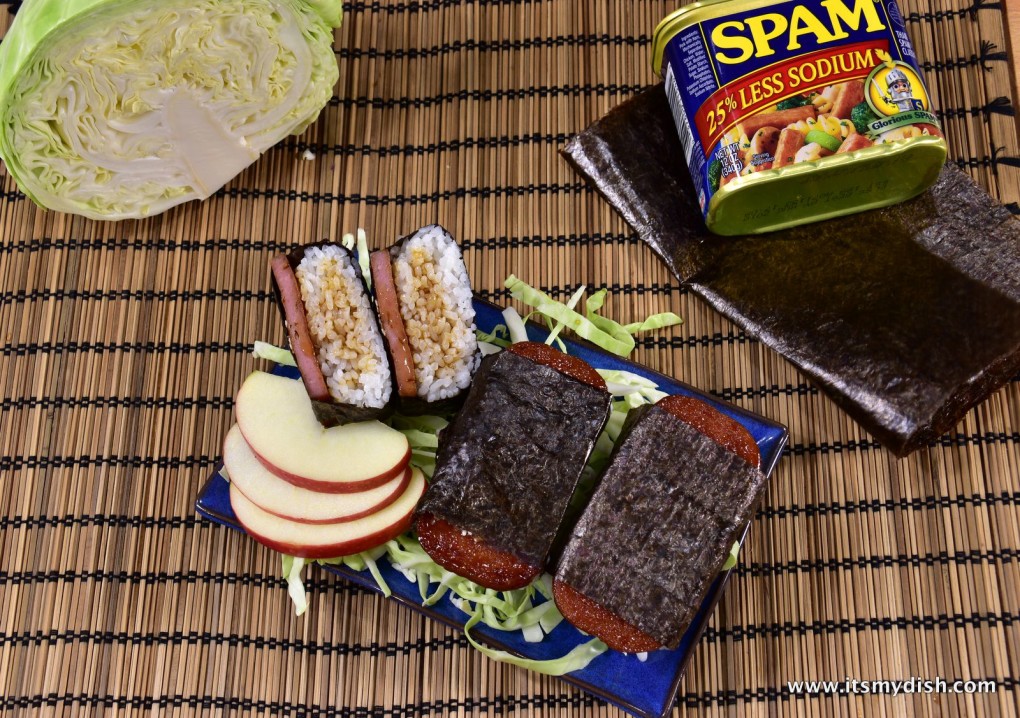 Spam musubi requires no introduction. It's basically spam wrapped in rice and seaweed then smothered in delicious sweet soy sauce (or teriyaki sauce). The Hawaiians have taken the traditional Japanese musubi (or onigiri) and transformed it into an amazing and delicious sweet and savory snack that makes me drool every time I think about it. The combination is so simple, yet when formed into a easy-to-pick-up and leave-no-messy-fingers rice ball, the flavors perfectly complement each other. Oh, and did I mention you get your three food groups as well, meat, carb, and vegetables! Well, seaweed is a vegetable isn't it? And I know some of you might not think spam is meat, but the ingredients do start with "pork with ham".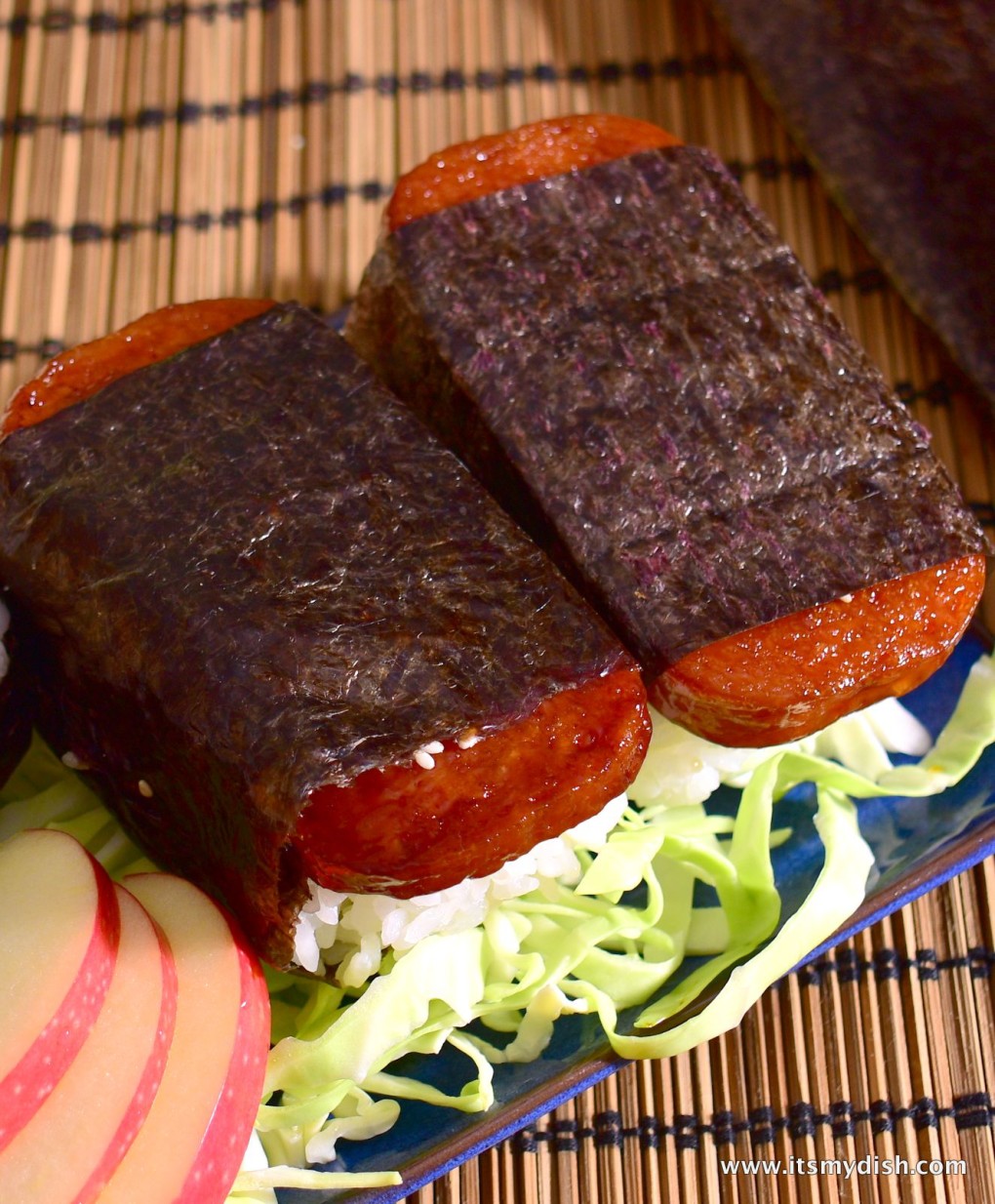 Now the hardest part of the spam musubi is shaping the rice. There were some suggestions of using a hollowed-out spam can to shape the rice but that require some sawing of the can. Others use a rectangular cookie cutter. For me, I happen to have a sushi mold which I picked up for $1.50 at my local Daiso (a Japanese-style 99 cent shop). If you are all out of options, just roll out your rice into a big sheet and cut it with a knife. The key is to make the rice patty a bit dense but not so dense that you lose the rice grains and becoming a rice cake.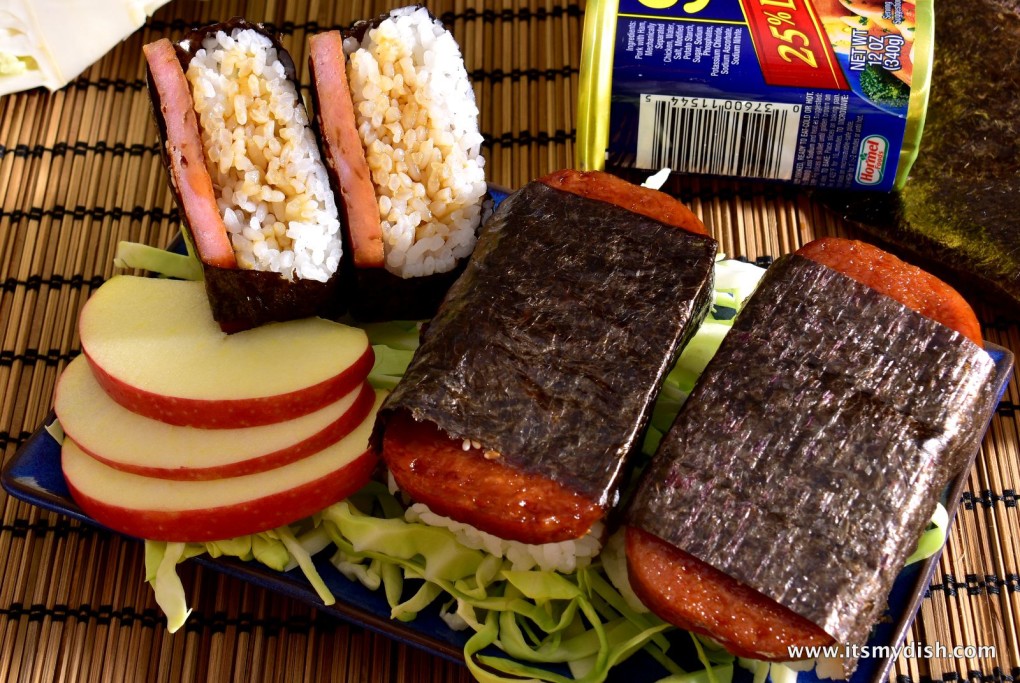 Another tip here is the sweet soy sauce. If you take a look at the teriyaki chicken recipe, there is also the recipe of teriyaki sauce. So I usually make enough teriyaki sauce to last me through the week. Yes, I'm addicted to sweet and savory sauces. This helps me speed up the process (as if it's not easy enough already). Hey, but I didn't just say put the nori in a bowl, add rice, and then put spam on top. Well, that would be the same thing, but different because we are making a 'snack' and not a meal. Else they would have called this a spam bowl.
Lastly, and most importantly, we come to the actual rice. Do NOT use long grain or Jasmine rice or Thai rice because it's too loose and fluffy which makes it super difficult to form a musubi. And the Vietnamese broken rice would also fail to create a strong bonding musubi. Ideally go for Japanese style sushi rice which is short grained. There is also the California style rice which is typically medium grain that works as well. Ironically, even though we use shorter grain rice which is stickier, we actually need to control the water so that the rice is not overly mushy because we still want to be able to taste the individual grains of rice after compacting it. Usually it's a 1:1 ratio of rice to water in a rice cooker. I tend to go about 5% less. Another way is to just use leftover rice which will lend itself to some water evaporation. But for me, I prefer freshly cooked rice.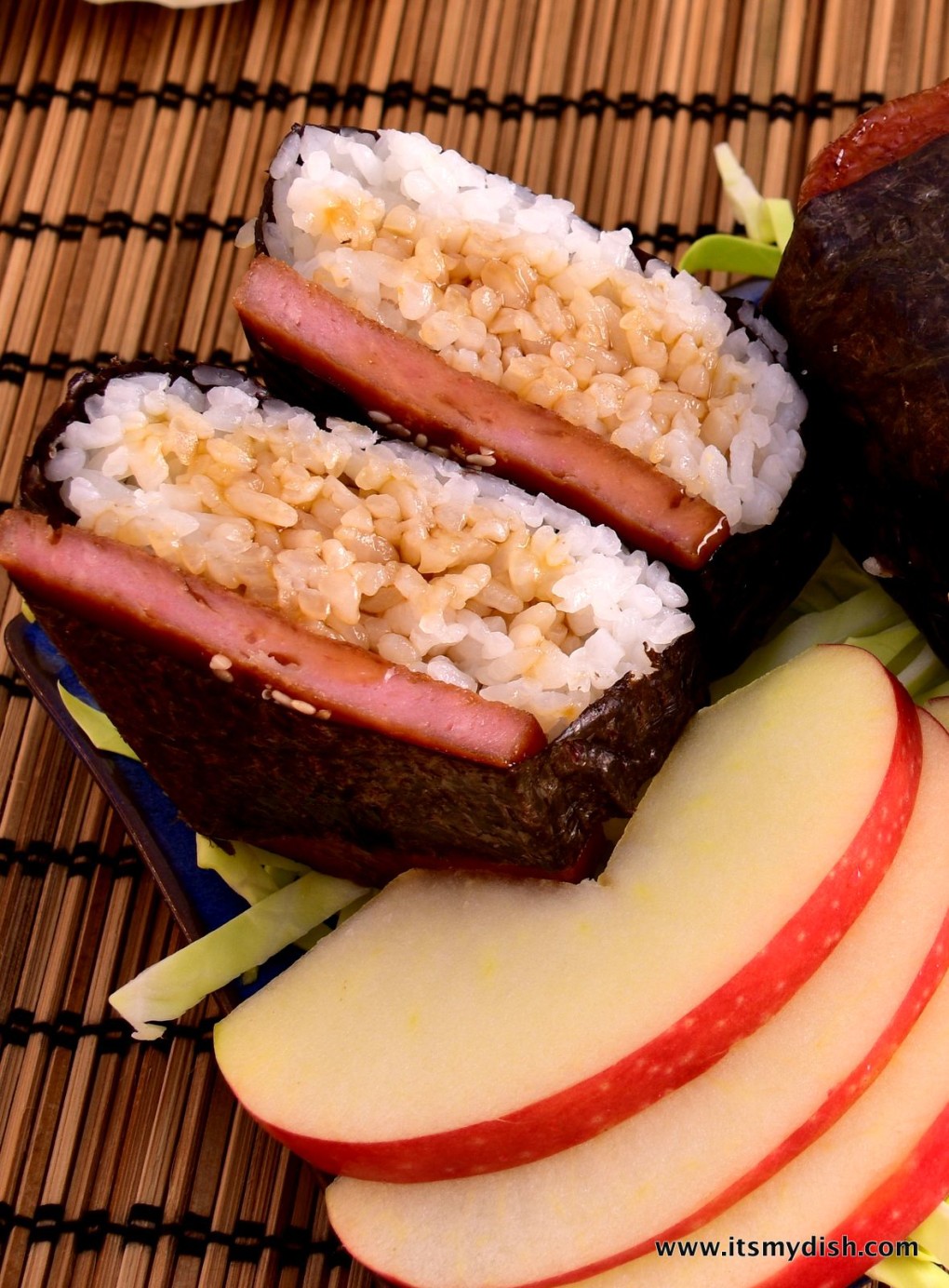 If I'm making musubi to be consumed immediately, I would actually lightly toast the seaweed (15-30 seconds in the toaster oven) so it becomes crispy and then quickly form the musubi and bite into it immediately. The texture and flavor is amazing. A resounding snap as you bite into the crispy seaweed followed by soft and chewy rice and spam. Yum yum. BTW, just a side note, that's why you should always order hand rolls sitting at the sushi bar instead of the table because if you wait more than 10 seconds to eat the hand roll, the nori would soften due to the moisture in the rice.
Okay, enough talking, let's go make some spam musubi and if you are too lazy to form all the musubi yourself, make it a 'spam musubi' party and have your guests make their own 😉
Ingredients
1 can Spam
3 cups cooked rice (preferably sushi rice or short-grain rice)
4 sheets nori (Japanese seaweed)
2 tbsp soy sauce
1 tbsp Sugar
Dash of Sriracha (optional)
Spam Musubi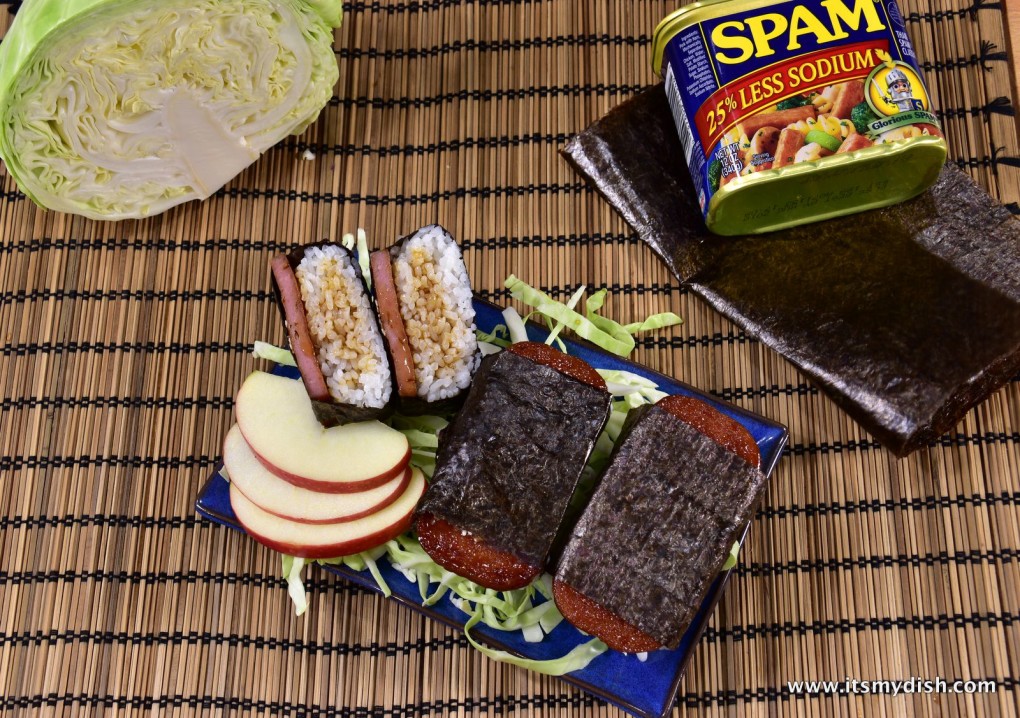 Spam musubi is a delicious snack originating from Hawaii made from spam, rice, and seaweed which is convenient to eat with your hands.
Ingredients
1 can Spam
3 cups cooked rice (preferably sushi rice or short-grain rice)
4 sheets nori (Japanese seaweed)
2 tbsp soy sauce
1 tbsp Sugar
Dash of Sriracha (optional)
Instructions
Flip spam to it's side and cut the spam into 8 equal slices
Pan fry spam on both sides until slightly golden brown and remove
Add soy sauce and sugar to the pan and stir until sugar dissolves
Add back the spam slices and continue to cook until sauce caramelizes while constantly turning the spam to coat all sides
Cut nori sheet in half
Form a tightly-packed rectangular rice patty and put on edge of nori sheet
On opposite end, stick a few grains of rice to use as 'glue'
Add spam on top
Drizzle some sauce and a dash of sriracha
Roll the spam musubi and seal at the edge
Serve with shredded cabbage and teriyaki sauce