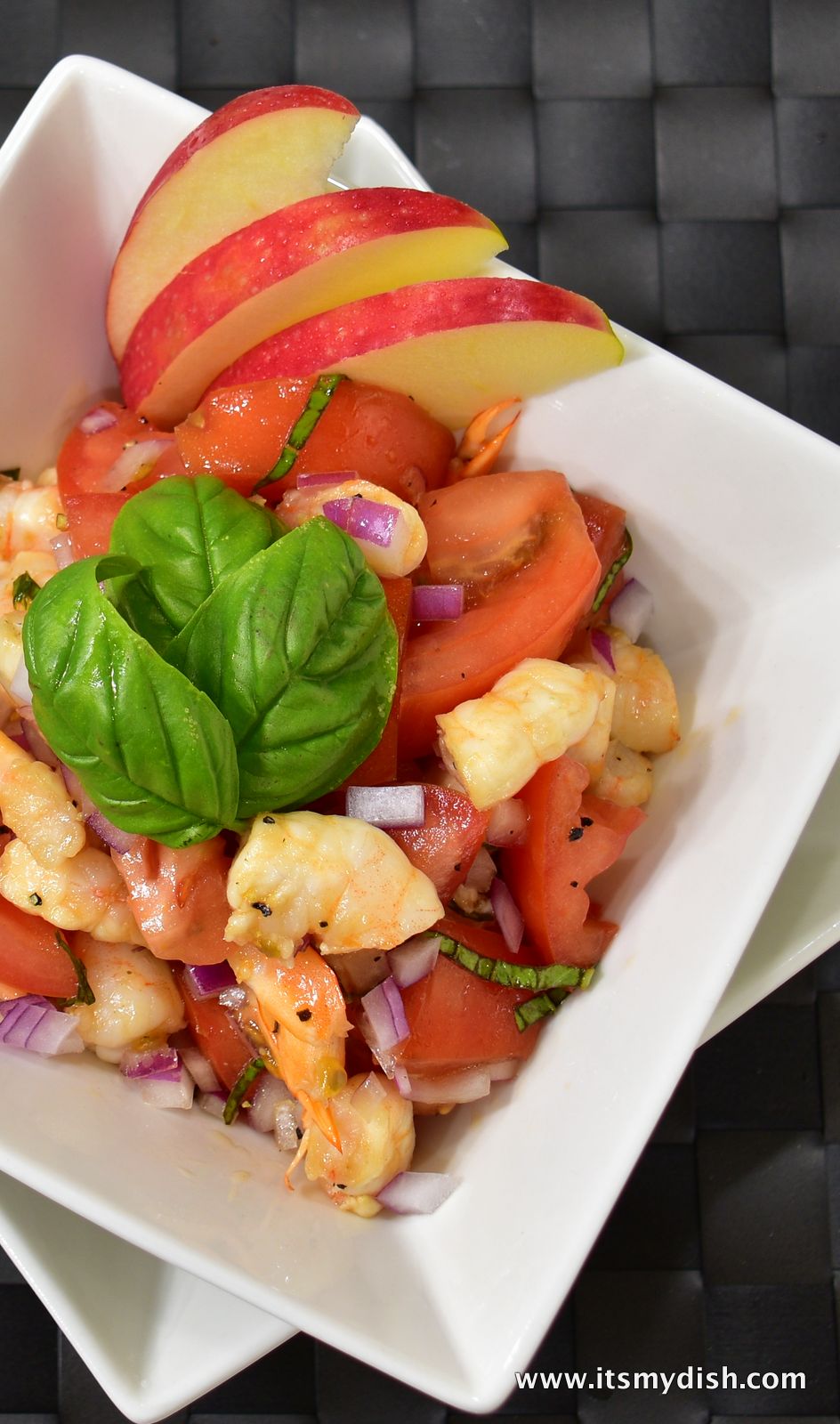 I'm not a fan of salad. Growing up in Taiwan, we never eat raw vegetables, especially not leafy vegetables. So every time we go to Souplantation (or Sweet Tomatoes), I would just fill up on carbs, chili, and clam chowder. Of course, in order to get to the cashier, we still have to go through the salad bar so I would take my token plate and fill it with non-salad foods like broccoli, cauliflower, pasta salad, peas, corn, croutons, fried wonton, and a big cup of ranch dressing. And then I discovered that salad does not equal raw leafy vegetables. Salads can also be any mixture of ingredients served cold like pasta salad, fruit salad, tuna salad, chicken salad, and of course shrimp salad. With that new definition, I can definitely live with 'salad', as long as it's not the leafy kind.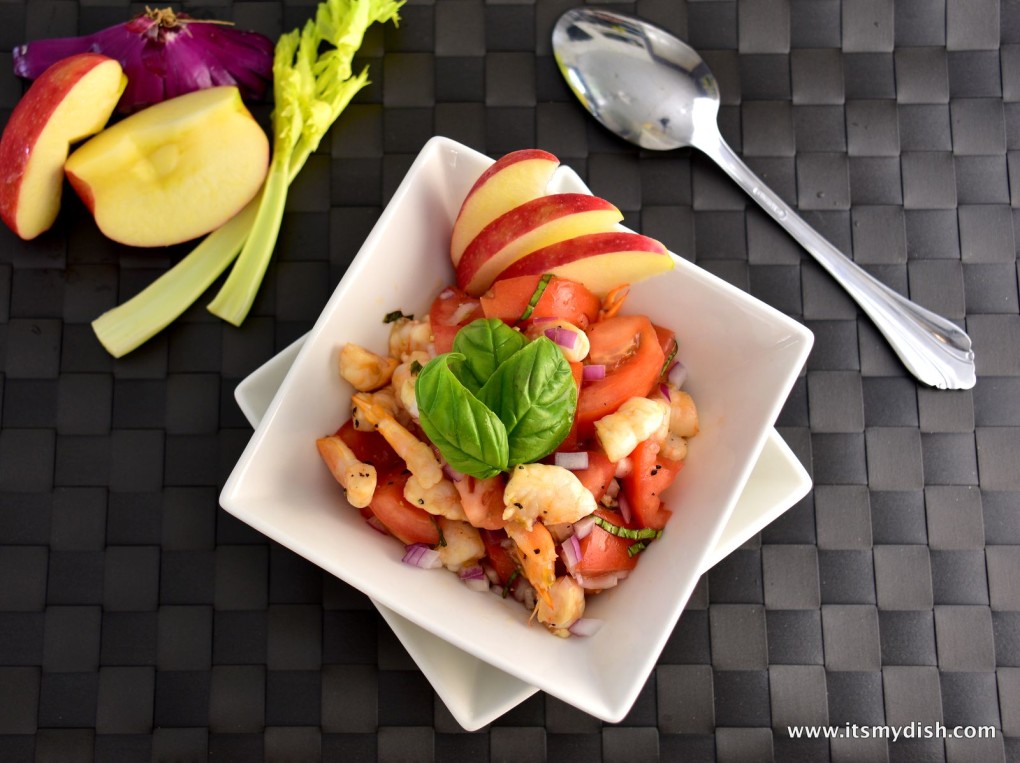 The first time I had this special tomato salad was in Japan. I was working there as a systems analyst straight out of college and every Sunday, I would hang out with my Chinese friends at Mama Ting's house (丁媽媽的家) for sharing and fellowship. She always treated young people with generosity and kindness and offered a home cooked meal for the starving students. And I have to clarify 'home cooked' because she converted her kitchen into a commercial kitchen with a 30" wok and a big enough burner beneath to put pyrotechnics to shame. She used to own a Chinese restaurant in Tokyo so everything coming out of her home kitchen was restaurant quality. So this one day is no different than any other day, there were always 3 dishes on the table, one meat, one vegetable, and one other dish. At first, I see 'tomato salad' so I just completely skipped over it. But then when I came back for seconds, I figured I might as well try the tomato salad. One bite and I was hooked. The tomato was super juicy and the chopped onions gave it extra flavor along with the sweet and tangy dressing. It was perfectly refreshing in the hot Tokyo summer. Ever since that time, whenever she would prepare the tomato salad, I would definitely fill my bowl with salad instead of meat – and that's saying a lot if you knew me.
Writing this article and making this recipe brings me back a lot of fond memories I had in the 5 years working in Japan and I dedicate this recipe to Mama Ting (丁惟柔) who passed away in 2007 at the age of 93. I've adapted the tomato salad recipe to incorporate shrimp and substituted rice vinegar with balsamic vinegar for a more Americanized taste.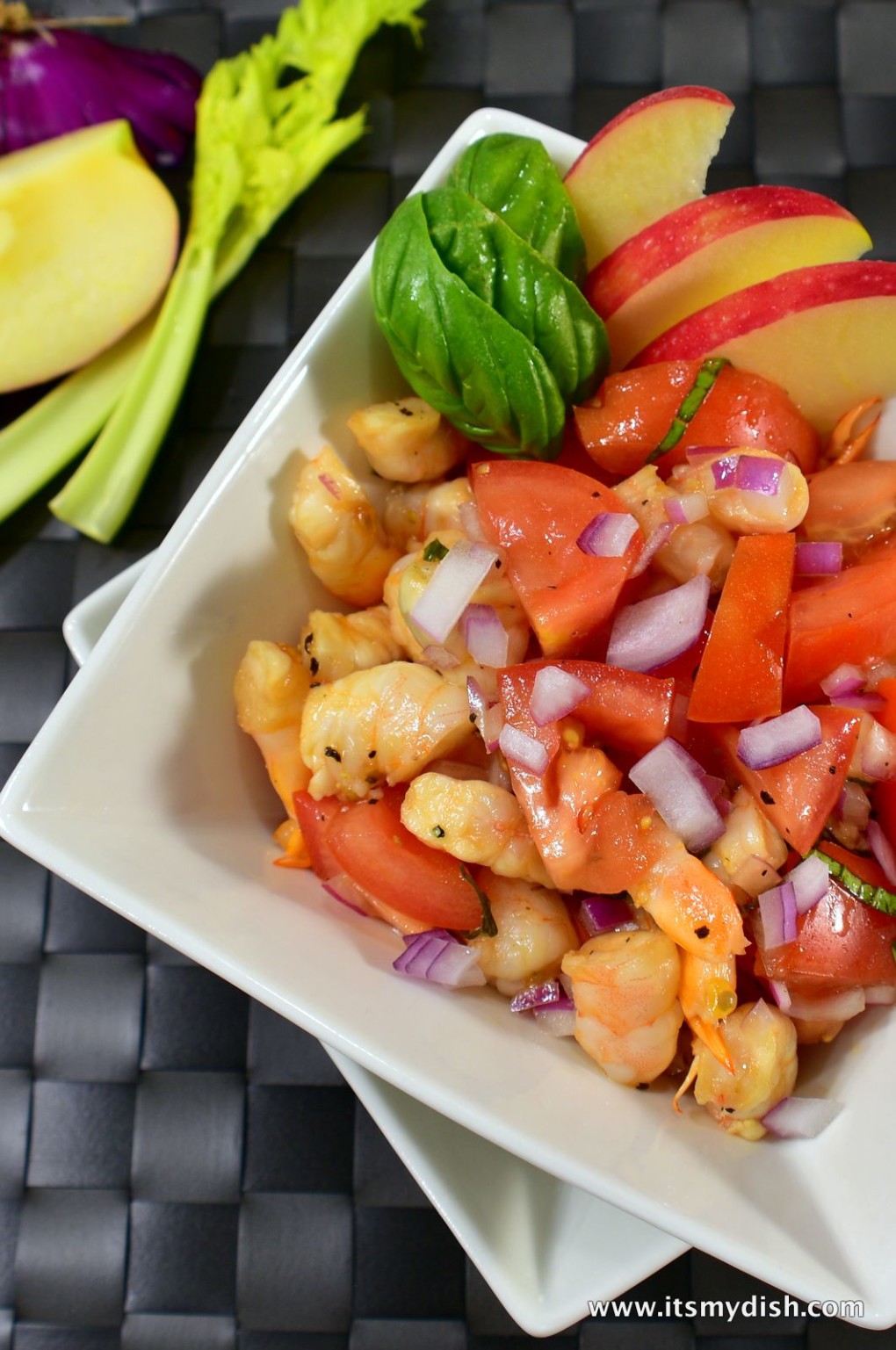 INGREDIENTS
1 cup diced tomatoes
1 cup cooked shrimp cut to bite size
¼ cup chopped red onions
4-5 basil leaves (chiffonade)
1 tbsp balsamic vinegar
1 tbsp olive oil
2 tsp sugar
1 tsp salt
1 tsp pepper
A squeeze of lime juice
Tomato Salad with Shrimp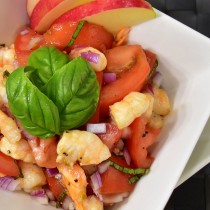 Shrimp and tomato salad is a refreshing dish using cooked shrimp and fresh tomatoes with basil and olive oil for a healthy salad or side dish.
Ingredients
1 cup diced tomatoes
1 cup cooked shrimp cut to bite size
¼ cup chopped red onions
4-5 basil leaves (chiffonade)
1 tbsp balsamic vinegar
1 tbsp olive oil
2 tsp sugar
1 tsp salt
1 tsp pepper
A squeeze of lime juice
Instructions
Put all the ingredients into a mixing bowl
Gently mix all the ingredients until even
Let rest in fridge for 15 minutes for flavors to impart and to chill the salad