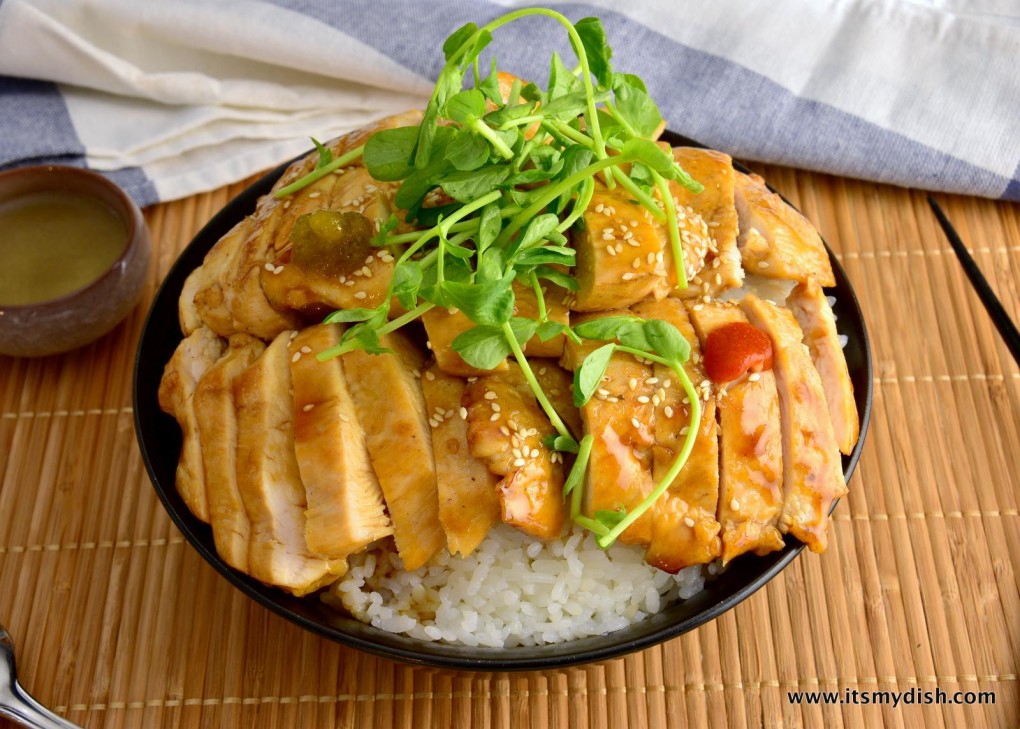 When I think of teriyaki chicken, I think of Japan. One of my life's most meaningful chapter was spending 5 years after college to work in Tokyo, Japan. Being that my grandmother on my father's side is Japanese, I've always wanted to know more about that missing piece of my heritage. Growing up in Taiwan and America, I never had that opportunity until I had a chance to study and minor in Japanese in college which at least helped me to prepare for my transition to Japan. Ok, not really, because the 3+ years of learning Japanese in college didn't amount to even the ability to actually have a meaningful conversation in Japan, let alone business-level Japanese. But it was my ticket there. Upon graduating, I worked for a financial software company that specialized in foreign exchange portfolio simulation. There were 10 of us in the intense 3 months training during the hot summer in the outskirts of Philadelphia. In successfully passing the training, we were able to choose among the various locations to begin our career, New York, London, Melbourne, Singapore, and Tokyo. As luck would have it, no one else wanted Tokyo so I got to go.
The most amazing thing about Japanese culture is their cooking. From the very traditional and formal kaiseiki meal to the tachigui noodle stands and yakitori stalls, I've tried them all. The ironic thing is that teriyaki is actually not that popular in Japan, partly because there are so many other varieties of Japanese cooking style as well as foreign cuisine that is available in Japan. It's similar to General Tso's chicken in China or Taiwan. But I digress because the one thing I love about many Japanese food is the mixture of sweetness and saltiness in their dishes, and teriyaki is one of them!
So let's talk about teriyaki a little bit. The words teriyaki is derived from Japanese. Teri (照り) means a shine or luster resulting from the caramelization of sugar and soy sauce. Yaki (焼き) means to grill. The traditional way of making teriyaki is to make the sauce and then dip the meat into the sauce multiple times during the grilling process – similar to basting in western cooking. Many teriyaki chicken recipe calls for marinating the chicken. Personally I prefer the chicken unmarinated because I love the contrast of the teriyaki glaze on the outside and the plain yet pure tender chicken on the inside. And technically, that's how it's supposed to be done.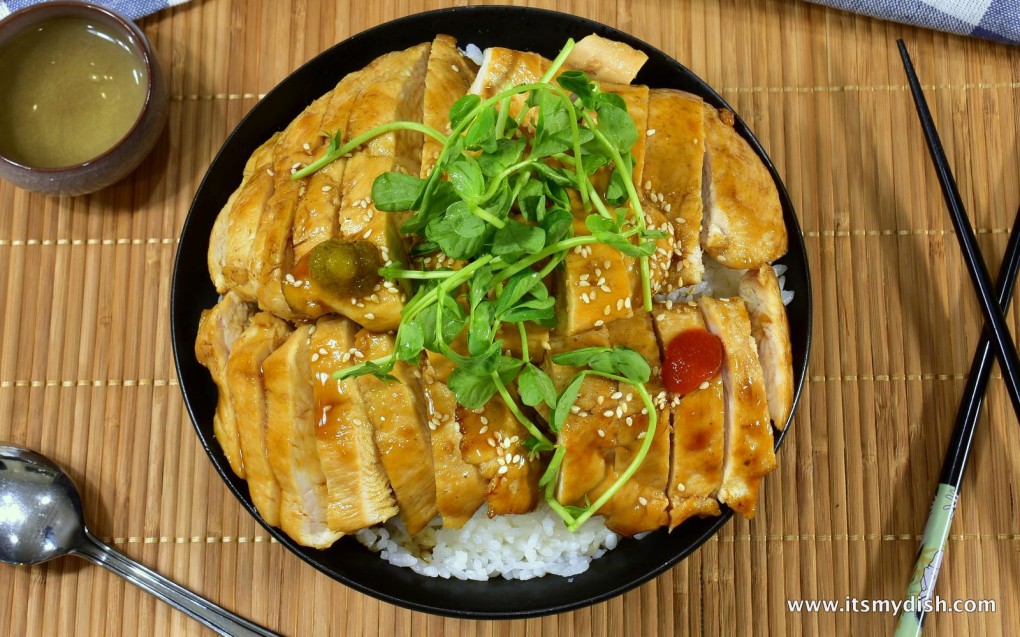 Usually teriyaki chicken calls for chicken thigh with skin on, that makes the most flavorful and tender meat without worrying about overcooking. However, I've tweaked the recipe for a healthy version using boneless skinless chicken breast and it will still taste delicious because the secret, as they say, is in the sauce. You can definitely make the sauce ahead. I usually make about 2 cups of sauce to keep in the fridge, for up to 1 week. This way, whenever I feel like teriyaki, I just need to pan fry my protein, whether it's chicken, or beef, or salmon, and then drizzle on the sauce. Voila, instant yumminess.
Ingredients
2 chicken breast (boneless and skinless ~ 1lb)
1 tbsp Green onions
1 tsp Sesame seeds
Teriyaki Sauce
2 tbsp Soy Sauce
2 tbsp Sake or Rice Wine
2 tbsp Mirin
1 tbsp Brown Sugar
1 tbsp Honey
1 tsp Ginger grated
Cornstarch slurry

1 tbsp cornstarch
2 tbsp water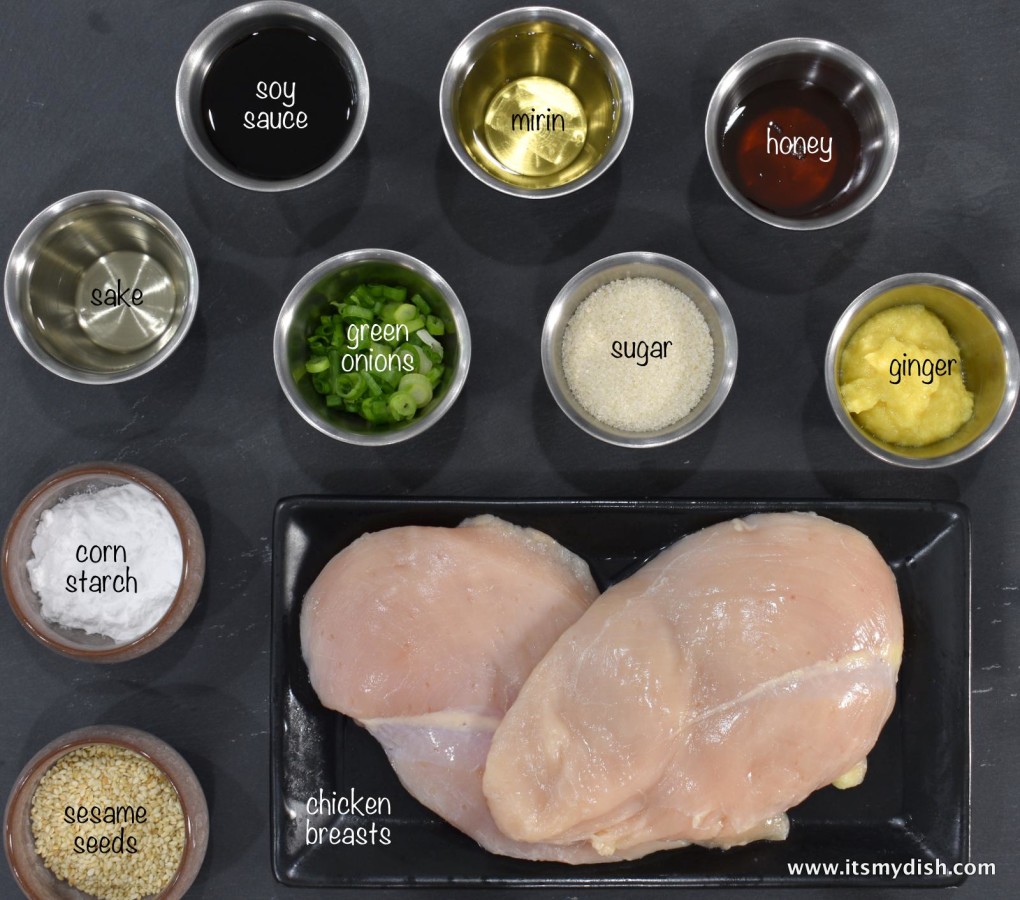 Quick and Easy Teriyaki Chicken (鶏の照り焼き)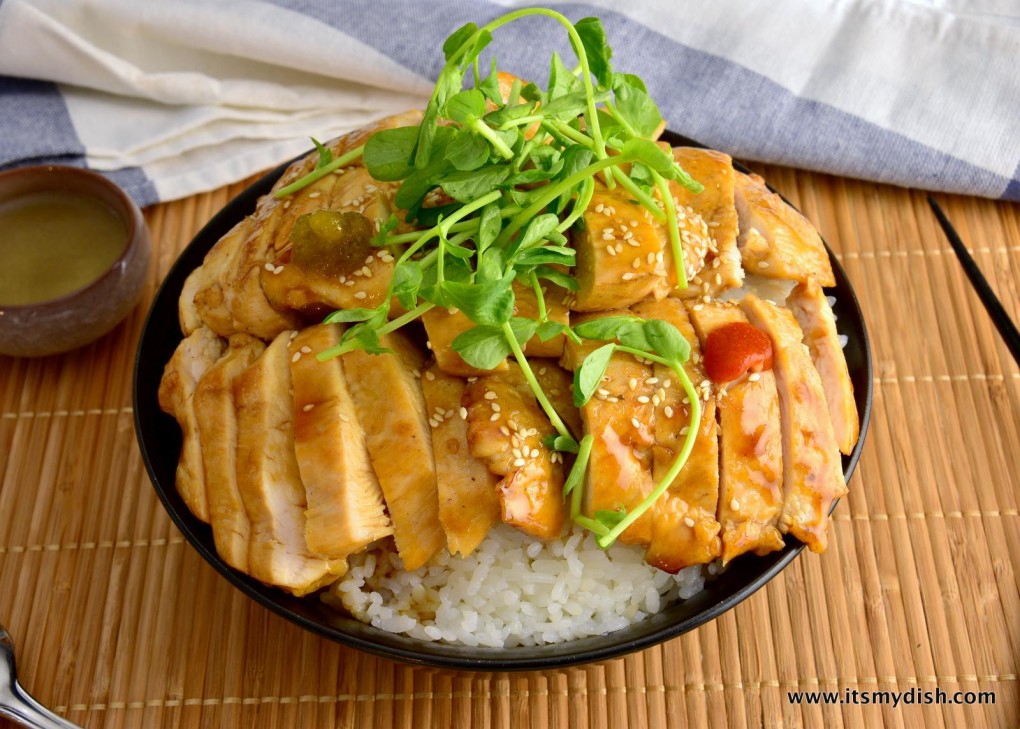 Healthy version of teriyaki chicken recipe using chicken breasts and no marinating so it's served in 15 minutes with our special teriyaki sauce.
Ingredients
2 chicken breast (boneless and skinless ~ 1lb)
1 tbsp Green onions
1 tsp Sesame seeds
Teriyaki Sauce
2 tbsp Soy Sauce
2 tbsp Sake or Rice Wine
2 tbsp Mirin
1 tbsp Brown Sugar
1 tbsp Honey
1 tsp Ginger grated
Cornstarch slurry
1 tbsp cornstarch
2 tbsp water
Instructions
Butterfly the chicken breast so it's thinner (optional)
Make the teriyaki sauce by adding soy sauce, sake, and mirin in a small sauce pot and bring to a soft boil
Add in sugar and and ginger, stir until sugar is dissolved
Turn heat down to low, add honey until incorporated
Mix cornstarch with water and pour into the teriyaki sauce
Stirring constantly and the sauce should thicken
Remove from heat and store in a container
Pan fry the chicken breasts on high heat for about 2 minutes on each side until golden brown but not fully cooked on the inside (only about 70%)
Spoon in teriyaki sauce into the pan and cook on high for about 2-3 minutes until sauce has thickened and the chicken has a nice teriyaki glaze
Let chicken cool a few minutes before cutting into ¾" strips
Drizzle with more sauce, sesame seeds, and green onions